4 New Year's resolutions for communications pros
Shake off that hangover, and let's get cracking on your commitment to improve in 2018.

After the December deluge of gifts, pies and bowl games, it's time to get back to the grind.
If you're eager to improve as a communicator in 2018, it helps to have a plan—or at least a few goals to shoot for. Here are four relevant resolutions for communications pros to commit to and keep:
Learn to use punctuation correctly. Wouldn't it be nice to know why that comma goes there?
Make 2018 the year you wrangle semicolons, subdue ellipses and wrestle em dashes into (properly styled) submission. Commas are, no doubt, the thorniest little mark of all, so feel no shame if you limit this resolution strictly to comma mastery. If commas give you fits, I suggest you print out this article and post it in your cubicle. If cubicle décor improvement was on your to-do list, you've just slain two resolutions with one stone.
Expand your technological expertise. It's impossible to master every new platform, medium or trend, so just pick one thing to focus on in 2018.
Perhaps it's video editing. Maybe getting up to speed on influencer marketing is more appropriate for your career, or it might behoove you to learn about augmented reality, chatbots or HTML. Learning your way around WordPress, the world's most popular content management system, also might do the trick.
Whatever it is, take time to expand your repertoire and expertise in 2018. Add at least one feather to your communication cap.
Be intentional about using your powers for good. If Newman from "Seinfeld" taught us anything, it's that those who control the flow of information wield considerable power.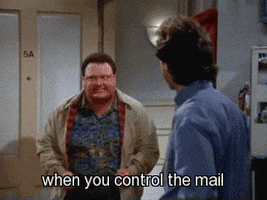 Why not strive to use your privilege and platform for higher purposes in 2018?
Beyond spearheading volunteer opportunities or philanthropic CSR initiatives, communicators have inordinate power to bring people together. You can use your voice to augment substantive connections and collaboration between co-workers, colleagues and clients. Your words can facilitate teamwork and stoke unity. Don't sell yourself short; use your powers for good this year.
Take more speaking opportunities. Most people go to great lengths to avoid any sort of public speaking scenario. This year, make it a point to stand up and speak out.
Leaving your comfort zone can be frightening, but there are benefits to trying new things. In terms of work, being assertive can help you become more influential and respected around the office. Speaking also does wonders for your own confidence.
So, take charge in 2018. Take on more responsibility. Speak up in meetings. If there's an opportunity to make your voice heard, take it—or, even better, create it. Volunteer to give a presentation. Propose an internal initiative. Step up to lead a new client pitch.
Here's to a bolder, savvier, better-rounded 2018.
COMMENT