9 blog topic resources bursting with ideas
Not sure what to write about? The author offers a cornucopia of sources that will make your content cup overflow.

Blogging can be a slog.
One exhausting aspect of maintaining a blog can be generating fresh ideas—but it doesn't have to be. If you're willing to dig, here are nine resources rich with fodder for your readers:
1. Use automated headline tools.
Several seasoned blogging pros have created tools for triggering a ton of writing topics. Here are five of the best:
2. Pull topics from news aggregators.
Time spent reading is time spent collecting ideas.
Feedly and Alltop are both fast, efficient aggregators, great for research and organization. Search for your topic, and scan the headlines with your next post in mind. Within minutes, you should spot themes and memes you can repurpose. Alltop is great for finding trending stories.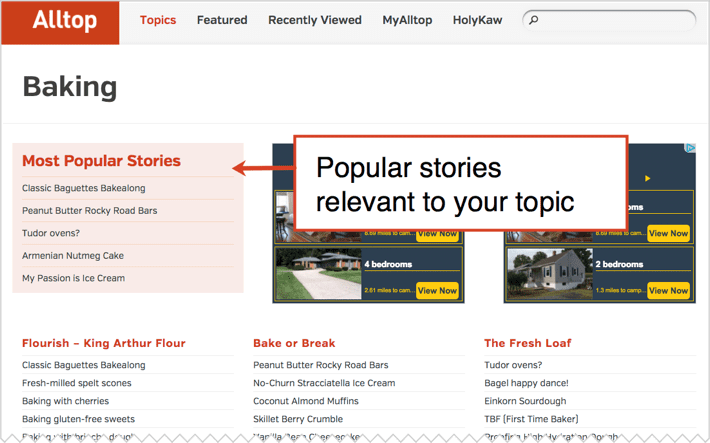 Feedly is great for finding (and then following) top sources, which you can then punch into BuzzSumo to see what topics are performing well on the top sites.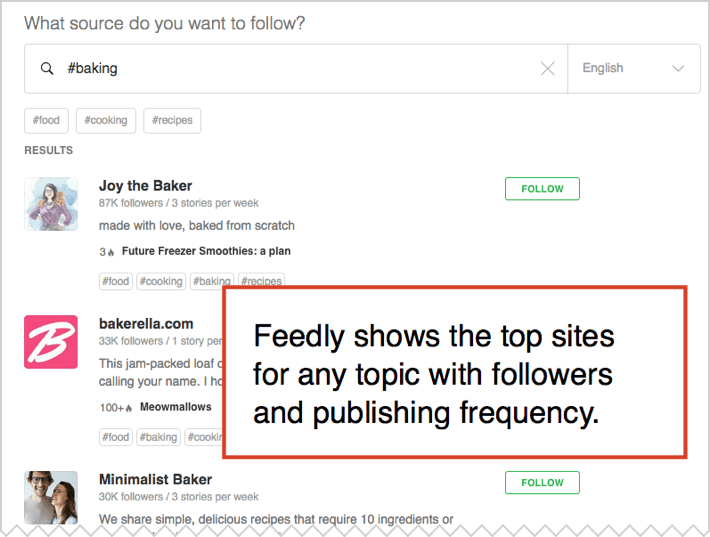 3. Check the calendar for upcoming dates or holidays.
Grab a copy of Chase's Calendar of Events, and scan it for dates and topics. This book features comprehensive listings of events, holidays, anniversaries and birthdays.
Let's say your post is scheduled for Feb. 12. What's going on that day?
The birthdays of Charles Darwin and Arsenio Hall
Italy's Feast of the Incappucciati
Miami's International Boat Show
The anniversary of the premiere of "Dracula" in 1931
Chase's Calendar of Events is published every year, and new copies are a bit expensive, but you can get a used copy of last year's edition for less than $10.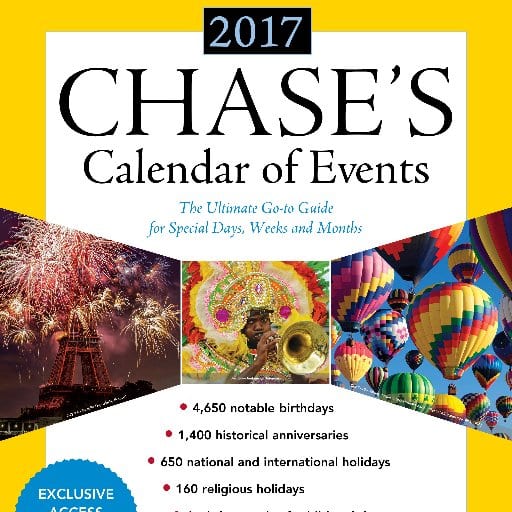 You might also search for "National [topic] day," and plan your content accordingly.
4. Write more about topics you're already ranking for.
Check your "Queries" report in Google Analytics. It shows all your key phrases and rankings. You can find it here: Acquisition > Search Console > Queries. To access this report, you need to first connect Google Search Console to your Google Analytics. If you haven't done this yet, here's a short video with instructions.
You can filter out all the key phrases that include your brand name. This will help you quickly find blog post ideas. Click on "advanced" next to the filter box.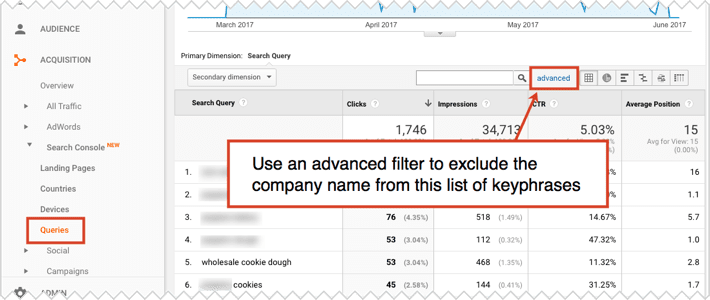 Set the filter to "exclude," and enter your company name. Here's what the filter will look like:

Now you're looking at phrases for which you already rank and which might already be generating traffic.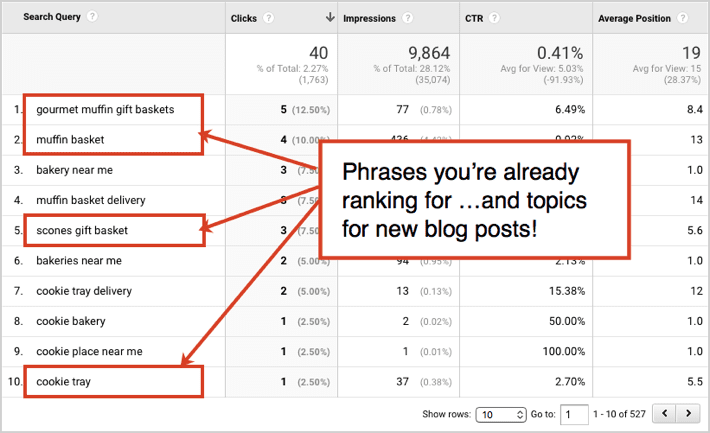 If you write a new post on one of these topics, don't forget to link to the page that's ranking. That's how you build smart internal linking.
5. Cover topics your audience is looking for on your site.
Does your website have a search function? If so, your site has a listening tool.
Everything your visitors type into that little search box can be seen in Google Analytics. Go to Behavior > Site Search > Search Terms to see what your visitors are looking for on your website.
If your site terms report is empty, set one up. Here's a video with site search setup instructions.
This report can reveal problems with your website navigation, but it's also an excellent source of blog post ideas. Why not write about the topics your visitors are already searching for?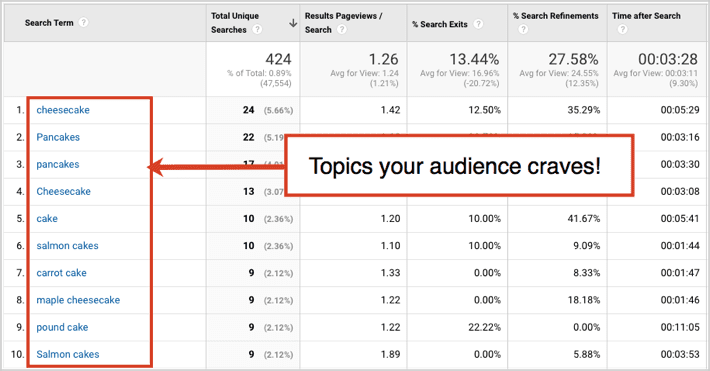 6. Recycle topics your readers loved the first time.
Google Analytics can show you which topics your readers crave.
Start here: Behavior > Site Content > All Pages. This report shows your most popular pages. To see blog posts, add a filter. This is easy if your blog is in a directory or subdomain.

The data in this report are sorted by the number of page views, but top-viewed pages aren't necessarily the best-loved posts. To see what your readers like, look closely at Average Time on Page. This number is more likely to indicate a keen interest in the topic. It's not a perfect metric (content length, formatting and the use of video are mitigating factors), but it's still a great indicator of readers' interest.
Here's how to view your content's Average Time on Page.
First, go to the "All Pages" report and set the view to "Comparison View." Select "Average Time on Page." This will compare the average time on the page to that of the overall site. After sorting the report, you can see which posts outperform the others.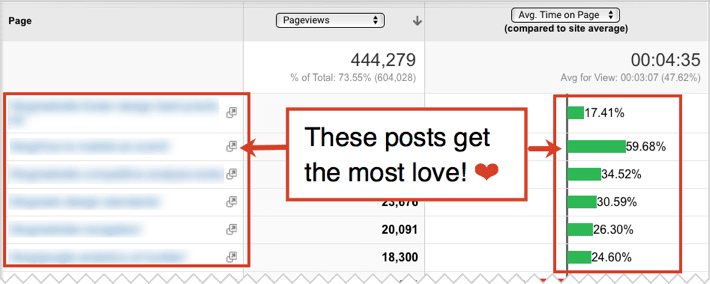 Then remove any outlying factors. For example, that top post in this screenshot has an average visit of 11 minutes, but that's probably because it contains a 14-minute video. Eliminate any posts that have elements that might skew the data, and you'll be left with a list of posts that your audience connects with.
Finally, scan the list and look for patterns. Your visitors are telling you something. Are they more interested in certain topics? Could you write more on these blog topics?
7. Write the 'evil twin' of your best how-to post.
If you've already written a well-received "how-to" or "best practices" post, you can repurpose the topic by adopting a new perspective. Write the "mistakes to avoid" article.
Here are a few examples of how the original topic becomes the evil twin:
Original: How to make muffins
Evil twin: 3 mistakes that make muffins miserable
Original: The top tips from 5 experts for beginner bakers
Evil twin: Experts agree this is the biggest mistake beginners make in the kitchen
Original: 10 beautiful cakes
Evil twin: That doesn't look like the cookbook picture!
Wait before posting the evil twin of any post—unless it's a guest post for another website. Also, adapt and add to it. The idea isn't to regurgitate content, but to repurpose a strong performer.
8. Your outbox is filled with blog posts.
He emailed you a question; you wrote a considered reply.
This happens every day, but not many view email exchanges as a marketing opportunity. Every answer you provide is potential content. Each of these emails could be the seed of an article.
For three years, I saved every email that contained an answer or advice. At the end of that time, I had 92 pages of content—some of which I repurposed into high-ranking blog posts. We all create content every day in email; the trick is to capture these topics to polish and publish later.
9. Listening is the ultimate source of topics.
Every meeting, phone call, conversation and online interaction is a chance to uncover topics.
Ask your sales and customer service teams what people are asking about. What are the top questions they field? What does every prospect need to know before they hire you?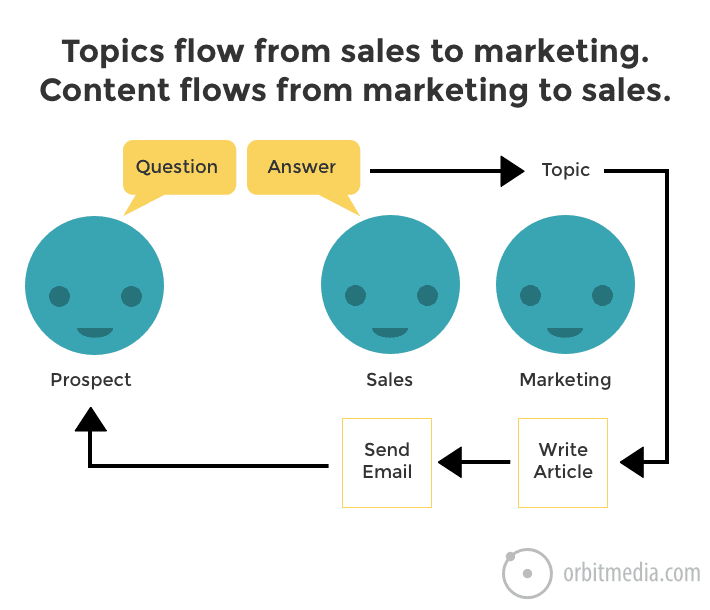 Let those common questions or concerns become blog fodder. Better yet, post helpful answers on your website to anticipate objections or obstacles.
If you answer a question in a meeting, but you never publish it as a blog topic, the value of your answer is short-lived. If you publish a robust response to common concerns, you can send it to people repeatedly. Visitors can find it. It could eventually rank in Google. People might share it.
Conversations are temporary; content is forever.
Andy Crestodina is Orbit Media's chief marketing officer. A version of this post first appeared on the Orbit Media blog.
COMMENT
Ragan.com Daily Headlines
Sign up to receive the latest articles from Ragan.com directly in your inbox.