2U
Boca Raton, FL; Brooklyn, NY; Cambridge, MA; Denver, CO; Lanham, MD; Los Angeles, CA; Tempe, AZ
What We're Looking For:
Reporting directly to the Director of Social Media and Digital Strategy, the Social Media and Digital Strategist will play a key role in bringing to life the voices and brands of edX and its parent company, 2U, across digital and social platforms. You'll also support the creative strategy and vision for social media at the company and maintain a sharp focus on the metrics and performance indicators that drive our success. Our team thinks big and moves fast, and together, we'll educate and inspire our diverse audiences around our vision to eliminate the back row in higher education and unlock learner potential at a paradigm-shifting moment for online learning.
The ideal candidate is entrepreneurial, has a passion for marketing purpose-driven brands, daydreams in hashtags, and can flawlessly execute both day-to-day social messaging and longer brand-focused campaigns. You'll bring strong instincts about which content and activations will work on which social platforms and with which audiences. Your innovative ideas and attention to the cutting edge of social media messaging will help the team break through the noise and create authentic connections, and your team-first attitude will support the team in everything it does.
Responsibilities Include, But Are Not Limited To:
Contribute to and Execute Digital Strategy: You'll help translate brand strategies into actionable, end-to-end digital campaigns–including social media, influencer activations, and digital content creation–that maximize reach and drive meaningful engagement with key audiences. This includes supporting editorial planning, content strategy, and execution for all social handles, as well as working collaboratively across PR, editorial, brand, and marketing teams to champion social-first ideas and execute integrated activations.
Craft Clear and Compelling Social Creative with a Distinct POV: You'll create clear and compelling copy, as well as creative, engaging multimedia such as gifs, social cards, short-form video, and audio clips.
Manage and Engage Social Community: Work toward KPIs around community engagement and growth that will support 2U's ethos for current and future partners as well as current and future 2U employees.
Partner to Power Growth Through Data-driven Insights: You'll work with the Director of Social Media and Digital Strategy to develop an experimentation roadmap and surface data-driven insights to optimize 2U's social and digital performance, as well as pilot new formats, products, and platforms. You'll track the performance of social and digital campaigns and content against defined KPIs and share actionable insights with relevant stakeholders.
Manage Projects to Enable Fast and Responsive Content: You'll execute a cohesive digital plan and design repeatable standards and processes that enable fast and responsive content development and distribution.
Things That Should Be In Your Background:
3+ years as a digital/social marketer or similar job function; experience in edtech or higher education sectors a plus
Core technical skills: you're familiar with data analysis and can easily navigate social media tools, Google Analytics, and Sprout
You are a voracious consumer of social media, closely track influencers and brands harnessing innovative ways to engage their audiences, and are among the first to know about changing social best practices.
Proactive and entrepreneurial: you are a problem solver energized by identifying creative solutions; you're skilled at managing up, prioritizing, and managing expectations
Creative and strategic storyteller: You understand how to build narratives that tie to business goals and can cultivate the key components to craft a compelling story across mediums and platforms. You love the creative process and enjoy the challenge of packing big ideas into small packages.
Professional and skilled communicator: you have excellent verbal, written, and interpersonal communication skills and the ability to work on cross-functional teams
Flexible: You are able to juggle multiple projects and switch gears seamlessly; you thrive in a fast-paced environment
Highly organized: You are detail-oriented, process-driven, and able to manage projects to meet tight deadlines
Team-first attitude: You're a team player willing to lend a hand on a variety of projects and go the extra mile to achieve company goals
2U Diversity and Inclusion Statement
At 2U, we are committed to creating and sustaining a culture that embodies diverse walks of life, ideas, genders, ages, races, cultures, sexual orientations, abilities and other unique qualities of our employees. We strive to offer a workplace where every employee feels empowered by the ways in which we are different, as well as the ways in which we are the same.
Benefits & Culture
Working at 2U means working with individuals that are passionate and mission driven. We collaborate on tough problems to deliver the best outcomes for our partners, students, and each other. You will find team members working together in our open office spaces, gathered in the kitchen grabbing a snack, or taking a break in our game rooms.
2U offers a comprehensive benefits package:
Medical, dental, and vision coverage
Life insurance, disability and 401(k)
Unlimited snacks and drinks
Generous paid leave policies including unlimited PTO
Additional time off benefits include: volunteer days, parental leave, and a company-wide winter break
In Colorado, the anticipated base salary for this role is $70,000 with bonus eligibility. Note: The final compensation for this position may consider factors including the geographic location where the work is performed (candidate's assigned office) and prior work experience of the candidate.
To learn more, visit 2U.com. #NoBackRow
Note: The above statements are intended to describe the general nature and level of work performed by individuals assigned to this position, and are not intended to be construed as an exhaustive list of all responsibilities, duties and skills required. All employees may be required to perform duties outside of their normal responsibilities from time to time, as needed.
2U is an equal opportunity employer that does not discriminate against applicants or employees and ensures equal employment opportunity for all persons regardless of their race, creed, color, religion, sex, sexual orientation, gender identity, pregnancy, national origin, age, marital status, disability, citizenship, military or veterans' status, or any other classifications protected by applicable federal, state or local laws. 2U's equal opportunity policy applies to all terms and conditions of employment, including but not limited to recruiting, hiring, training, promotion, job benefits and pay.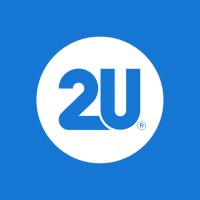 2U is comprised of 3 lines of business: Graduate Degree Programs, Short Course, and Boot Camps. Going beyond traditional learning management systems, we use tech, people, and data to help top universities and enterprise organizations transform in the digital era—and eliminate the back row in higher ed. We support lifelong learning which means thinking beyond a single degree. It means finding ways for students to gain the skills they need to change careers, evolve their expertise, and meet the challenges of the changing world head-on. We help our partners fill those needs—developing new digital education technologies and offerings capable of supporting students at different points in their lives. Whether they need a simple refresher, to learn something new, or to change their career trajectories completely, our partners are there to help them succeed. Together with our partners, 2U has positively transformed the lives of more than 275,000 students and lifelong learners.
29 DAYS AGO

New job listings updated daily. Click here to sign up for our newsletter to stay informed.