Infographic: 12 tips to make your content Google-friendly
Cranking up your SEO tactics can increase your company's visibility and authority. Here's how to make your pieces pleasing to search engines.

Your content might be scintillating, but it's useless if people can't find it.
Cision's new infographic offers handy hints for content creators keen on zooming to the top of search results. Google's ranking algorithm can be hard to decipher, but there are rules to follow.
Here a few guidelines to craft SEO-friendly content:
Be original. Google favors "fresh" and original content. At least once a year, inspect your website's dustier nooks and crannies, and freshen up the copy as needed. Spritz in some flavorful wording, and banish bland, banal sentences.
Use headline real estate wisely. The infographic suggests placing crucial information "in the first 55–70 characters, so it's visible in search results." It's wise to include a relevant keyword in your headlines, but don't force it. Mindless keyword stuffing is terrible for your website ranking. SEO juice aside, spicy, irresistible headlines are a key component of great storytelling.
Make it digestible. No man, woman, child or mysterious search engine robot wants to plow through massive chunks of text. Take time to format your pieces. Break up paragraphs with subheads and bullet points, and bold important words and phrases to facilitate scanning.
Don't use jargon. Jargon is annoying, but beyond that, filling your page with bloated buzzwords can also cause Google to deem your page "low-quality."
Don't have duplicate URLs. The infographic suggests using "one to three links to drive the best engagement."
Don't bury the crucial link. Placing your call to action near the top of the page is helpful for readers and search engines alike.
Every piece of content you create and post has SEO implications. To make sure you're doing more good than harm, review the rest of the piece below.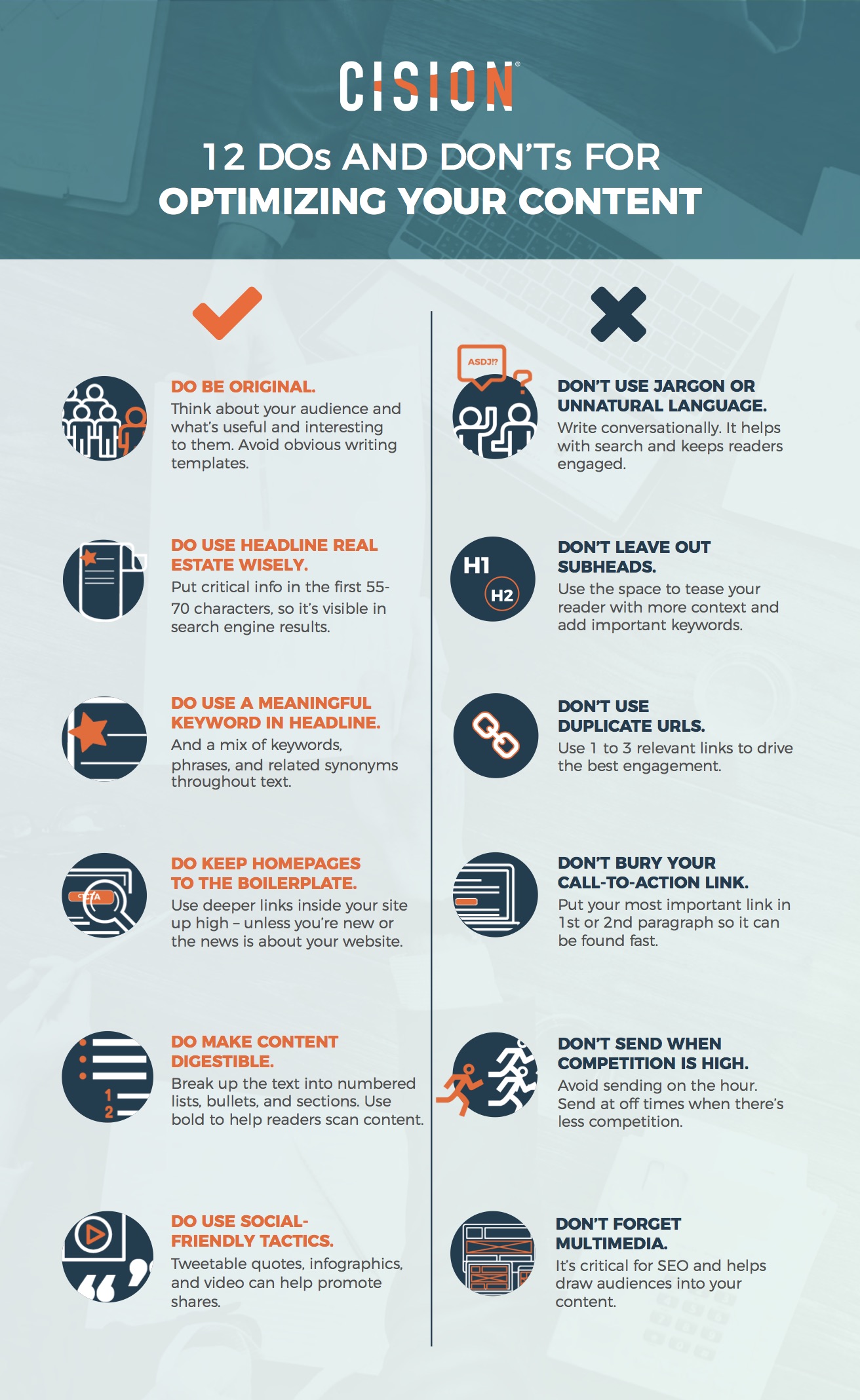 COMMENT
Ragan.com Daily Headlines
Sign up to receive the latest articles from Ragan.com directly in your inbox.