Lessons for communicators from the World Cup
Kick around these takeaways from the world's greatest sporting spectacle, and you just might find more workplace endeavors flying successfully into the back of the net.
We are now in the thrilling thick of the 2018 World Cup.
We've already seen plenty of cracking goals, spectacular saves, jubilation and heartache, with much more in store.
Even for the casual viewer, the tournament offers much more than soccer. The games are jam-packed with politics, passion and varying international flavors of unbridled joy—not to mention plenty of relevant workplace takeaways.
Every World Cup squad is a workforce unto itself, with its own unique culture, quirks, strengths and dysfunction. Some teams appear to be unified and having a blast; others, not so much.
Here are five ideas for communicators to pluck from all this World Cup action:
1. Celebrate success. In this global tournament, goals tend to be scant and, therefore, are cause for rapturous celebration. Acrobatic saves, lung-busting runs down the field, risky tackles and skillfully threaded passes also elicit stadium-shaking cheers and applause.
Does your workplace do anything to recognize success? How do you commemorate milestones and achievements?
Fist-pumping knee slides aside, take time to celebrate success. Recognizing a job well done is a key component of employee engagement, and it's a great way to motivate and inspire your workers.
It doesn't have to be a big or expensive deal. There are plenty of easy, affordable ways to show employees love and let them know their efforts are appreciated.
However you mark accomplishments, formalize it, prioritize it, and make celebrating success a cornerstone of your culture.
2. Create a team people are eager to play for—and support. Argentina was one of the tournament's early favorites. That nation's squad has the best player in the world, Lionel Messi, as well as sky-high expectations. It's been a nightmare for Messi and La Albiceleste thus far, rife with infighting, disappointing results, furious fans and a brewing player revolt. (They've made it through to the knockout round, but still.)
By contrast, Senegal's squad are dancing their way through adversity, winning games and gaining new fans worldwide. They are playing loose, having fun and oozing confidence.
Which of these two camps does your workplace mirror? Which atmosphere would be more conducive to boosting productivity, fostering worker happiness and attracting new fans?
Creating an environment that exudes joy and emphasizes harmonious teamwork will attract top talent and help you keep your MVPs. As much as you're able, have fun with your communications. Play loose. Dance together, if you must. Dare to be more like Senegal.
3. Beef up your midfield and defense. Goal scorers make the highlight reels. The real stars of soccer games, though, are often the players who do the dirty work of winning contested balls, keeping possession, blocking shots, curling unselfish passes and stonewalling opposing players.
Of course, writers (the glory-hound goal-scorers of the editorial world) are crucial, but the best teams recognize the value of nameless, tireless, editors—the steely-eyed goalkeepers. Editors do a thousand things every day that don't appear on the stat sheet and yet are essential to maintain editorial integrity and success.
If your team consists solely of goal-hungry strikers, it's just a matter of time before a foe exposes your weakness and ripples the netting behind you.
4. Don't be a flopper. Soccer players are famous for diving, a shameful ruse in which a player feigns injury to gain an advantage or get an opponent in trouble.
Players who flop excessively run the risk of gaining a boy-who-cried-wolf reputation, which can come back to bite when a genuine injury occurs (or if you're actually bitten by famous chomper Luis Suarez).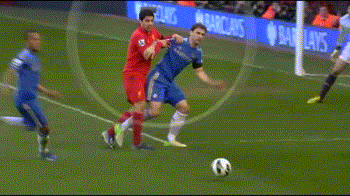 Don't be a workplace flopper. Don't be the person who's always complaining, inflaming rifts, exaggerating threats, shifting blame or stretching the truth. You'll lose credibility and influence, and no one will believe you if you sound the alarm when a real crisis arises.
5. Pick each other up. When your colleagues stumble, do you step over them or extend a helping hand?
Those who dance on graves or gloat over vanquished foes tend to receive little compassion in return. Even if it's your workplace nemesis, be the bigger person. Use your position to facilitate empathetic messaging and to create a culture that emphasizes compassion and genuine care.
Helping people up increases the chances that you'll receive support when you're the one in need of a boost. It's the right and noble thing to do—on the soccer pitch, at work and in life.
COMMENT
Ragan.com Daily Headlines
Sign up to receive the latest articles from Ragan.com directly in your inbox.