Research: Employees reveal top 10 career regrets
'I should have spent more time at the office,' said no one ever—or did they? Read on to learn workers' biggest sources of remorse and what professionals wish they'd done differently.
Most careers are bumpy, unpredictable rides that are equal parts circuitous and fortuitous.
Some enjoy smoother professional journeys than others, but one thing's for sure: We all have workplace regrets.
Zety collected feedback from more than 1,000 workers to learn more about employees' biggest sources of remorse. Here's what Zety found:
Just 2% of respondents said they had "no regrets" about their careers.
"Not taking more initiative" was the top regret, followed by "not having enough mentorship or guidance" and "playing it safe/not taking more chances."
"I wish I'd spent more time at the office" did not land in the top 10, but "not negotiating hard enough for raises" did, as did "not negotiating a higher starting salary."
Those who feel that every workday is the worst day ever might direct their attention to the No. 5 regret listed: "not quitting a job I disliked sooner."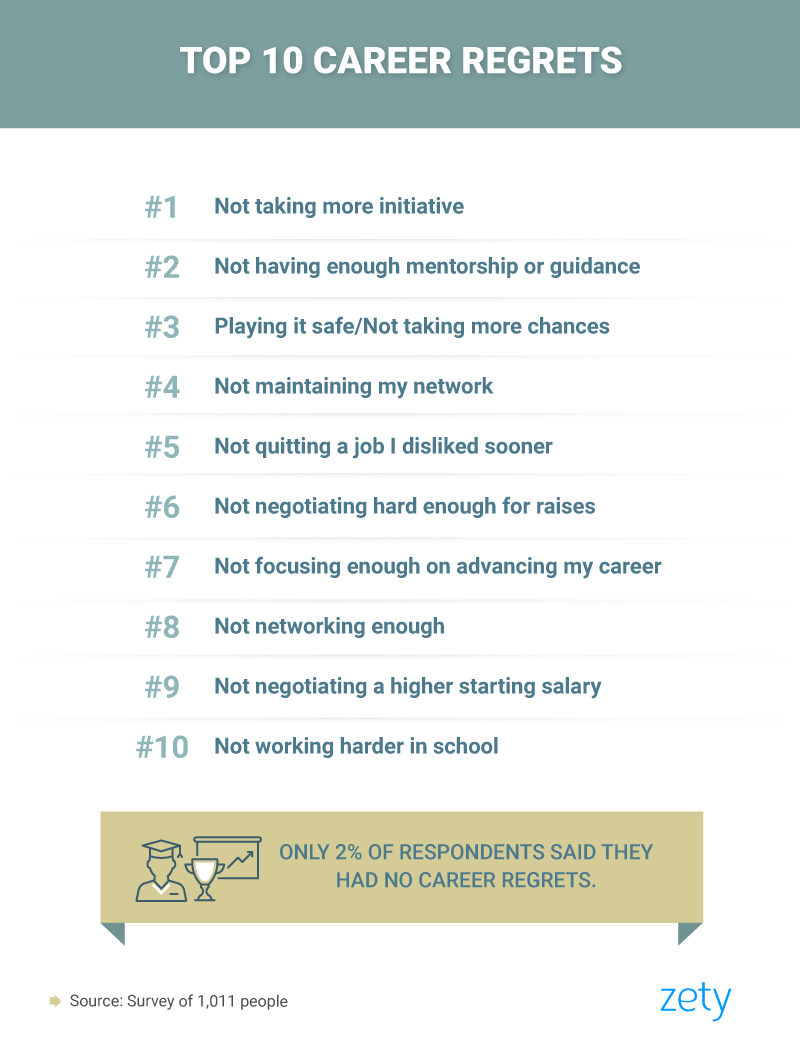 Zety found that women and men had different career regrets. About a third (34%) of female respondents lamented "not speaking up about a problem at work," while 28% of males regretted "not working harder."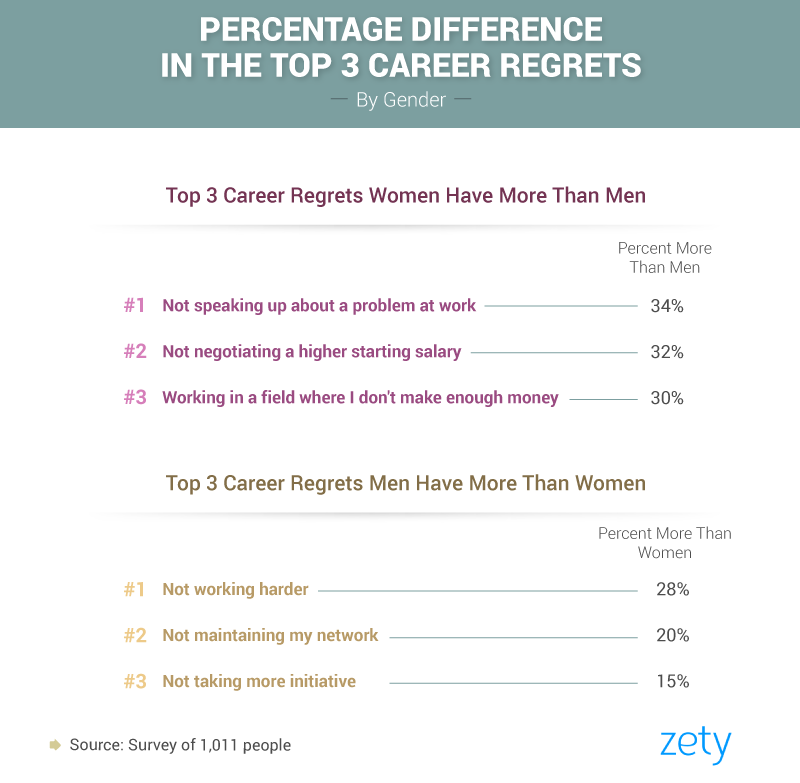 What of risks? We all wish we'd done a bit more professional swashbuckling, right? Look at the top career leaps that respondents wish they'd had the courage to take: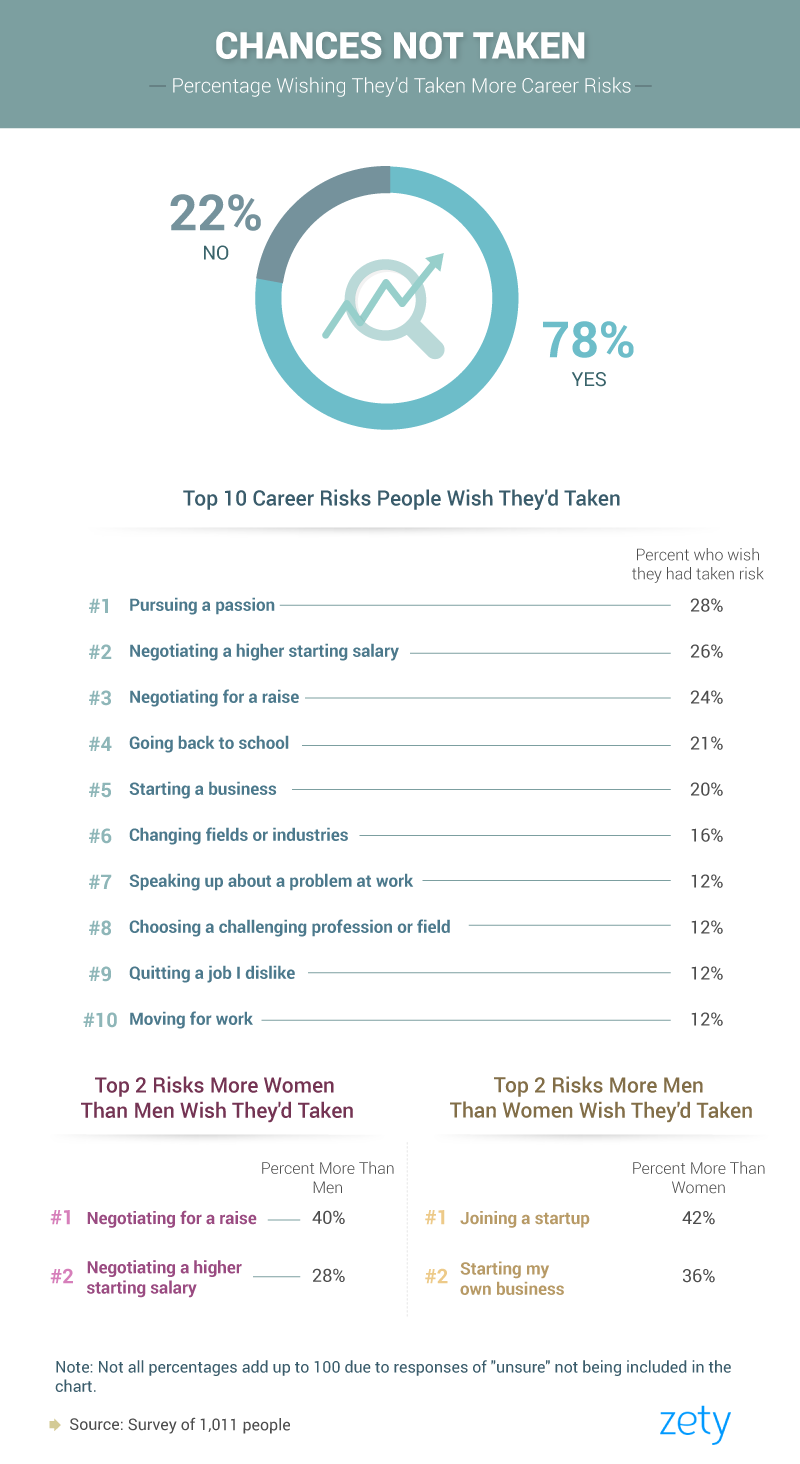 What are your biggest career regrets? Do you have any? Read the rest of Zety's research to see which decisions continue to cause consternation. Is yours not on the list? Please share it in the comments.
COMMENT
One Response to "Research: Employees reveal top 10 career regrets"
Not going ahead and getting my master's in public relations when I was just starting out in P.R. I'd been accepted at the local university, my employer would have fully reimbursed my tuition, and most importantly, I think it would have given me more confidence as I pursued my career. But I never went through with it – definitely my biggest career regret.