Google lifts COVID-19 ad ban, Cannes Lions 2020 canceled, and Boeing asks for voluntary layoffs
Also: How consumers' behavior has changed during the pandemic, Marvel offers free comic book stories, ways to cater to e-commerce shoppers, and more.
Good morning, communicators:
The Chicago Tribune reported that along with increased internet usage (21%), Wi-Fi calling minutes (93%) and streaming services (85%), the most popular products people are purchasing include frozen cookie dough, all-purpose cleaner, spray disinfectant, dry refrigerated yeast and personal thermometers.
The data was aggregated from "pollution reports, to smartphone app downloads, to retail purchases."
Image courtesy of Chicago Tribune.
 You don't have to be a grocer, telecommunications company or production company to benefit from this data: Consider these behaviors and purchases in the content you create. Perhaps you can offer a recipe with long-lasting pantry items or launch a contest with your social media followers in which they dress up as their favorite TV character using the items inside their homes.
Here are today's top stories:
Google lifts coronavirus advertising ban
The company is lifting its restrictions against ads that contain COVID-19 messages, starting with government organizations, NGOs, health care providers and hospitals.
Since February, most nongovernmental advertisers have been barred from running ads related to the COVID-19 pandemic to stifle organizations seeking to spread misinformation or profiteer off of the panic.

… "This policy was designed to protect users and block ads that try to capitalize on short-term events like natural disasters," a Google spokesperson told The Verge. "Now, we are looking at ways to support limited COVID-19-related ads from hospitals, medical providers, government entities, and NGOs."
The search giant will also expand the opportunities to additional marketing partners, including political organizations.
Why it's important: As the crisis continues, so does the need for guidance and support from a variety of sources. Be on the lookout for information and opportunities to share your messages, but keep in mind that misinformation continues to cloud the digital media landscape. As much as you can, focus your messages on your audience and ensure you're sharing information from official and verified sources.
---
TACTICALLY SPEAKING
Boeing is bracing itself for job cuts and announced a plan for voluntary layoffs, which will enable eligible employees to receive a salary and benefits package. If enough of the company's workforce can take part, it presumably will stave off additional layoffs and furloughs.
In a letter to employees, the company's president and chief executive, Dave Calhoun, wrote:
[One] thing is already clear: It will take time for the aerospace industry to recover from the crisis. When the world emerges from the pandemic, the size of the commercial market and the types of products and services our customers want and need will likely be different. We will need to balance the supply and demand accordingly as the industry goes through the recovery process for years to come.

It's important we start adjusting to our new reality now.

… I promised I would be very transparent with you. We're in uncharted waters. We're taking actions—including offering this VLO plan—based on what we know today. They will bridge us to recovery as long as we're not confronted with more unexpected challenges. I can't predict with certainty what the next few months will bring, but I can commit to being honest about what's happening and doing everything we can to protect our people and our business through this crisis.
As you deliver tough news to your employees, remain as upfront and transparent as possible. Internal communicators must walk the line between confidently projecting plans for the future while maintaining a tone that matches the somberness of the crisis.
---
CRISIS LEADERSHIP BOARD
Looking for more insight on how to address the current global crisis and lead your organization into a strong recovery?
Join Ragan's Crisis Leadership Board to network and brainstorm with peers, get the latest intelligence and research and start to strategize for the future of your organization.
Learn more about this exclusive membership here.
---
READER CHALLENGE
Readers shared pictures of their WFH set-up, complete with furry coworkers and comfy chairs.
See how your colleagues are creating their workspace in their homes here.
We will be sharing these photos every week so be sure to share your workspace with our hashtag #RaganWFH or email to RoulaA@ragan.com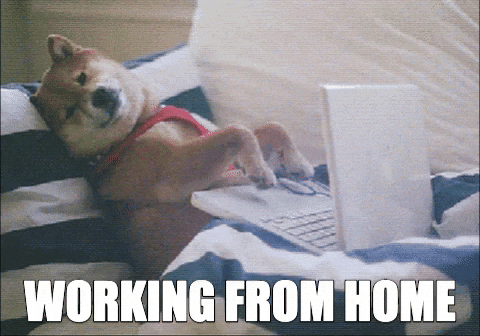 Cannes Lions 2020 Festival and Awards cancelled
The organization has called off its yearly event celebrating creative advertising and marketing efforts, announcing it will instead take place June 21-25, 2021.
 In a press release, the organization wrote:
 As the impact from COVID-19 continues to be felt across the world on consumers and our customers across the marketing, creative and media industries, it has become clear to us our customers' priorities have shifted to the need to protect people, to serve consumers with essential items and to focus on preserving companies, society and economies.

 … Philip Thomas, Chairman, Cannes Lions, commented: "Cannes Lions at its core has always been about creativity and the Lions. We realise that the creative community has other challenges to face, and simply isn't in a position to put forward the work that will set the benchmark. The marketing and creative industries, in common with so many others, are currently in turmoil, and it's clear that we can play our small part by removing all speculation about the Festival this year. We have tried to make our decisions as early as possible to give the industry total clarity on the situation, and that is why we are announcing this move today."
In lieu of a festival, the organization is sharing stories of brands, platforms, agencies and others that are responding "to rapidly changing consumer behavior, evolving circumstances and periods of extended isolation."
A creative campaign that used a popular song to teach people life-saving skills.

Client: British Heart Foundation
Agency: Grey London

Check out more inspiring work on our new community space: https://t.co/F0C1Ksuq7w#CannesLions #CreativityMovesUsForward pic.twitter.com/sH4bF2FymU

— LIONS | The Home of Creativity (@Cannes_Lions) April 2, 2020
Why it matters: The pandemic continues to bring unrest and uncertainty, so focus on providing as many answers and as much information as you can, to lessen your stakeholders' anxiety. When you make tough decisions regarding employee furloughs and product launches or events scheduled for the summer and beyond, relay those decisions as soon as you can, so others can prepare accordingly.
---
MEASURED THOUGHTS
A report by Zoovu and published by Digital Doughnut revealed the importance of including conversational search strategies into e-commerce marketing campaigns. Zoovu reported that prior to the COVID-19 outbreak, 67% of consumers said organizations can better guide purchasing decisions—leading them to prefer in-store shopping.
Nearly three-quarters (74%) of consumers want a self-guided solution that gives them answers and personal e-commerce recommendations. Now that many consumers are staying at home and purchasing online, this has become increasingly important: In the last month, 28% percent are making online purchases they usually would buy in person, and 25% are purchasing products they otherwise wouldn't. Twenty-two percent are spending more time shopping online.
Zoovu laid out the top expectations and how brand managers can meet them during the crisis:
Image courtesy of Zoovu and Digital Doughnut.
CRISIS DAILY NEWSLETTER
Ragan Communications has launched a new daily newsletter to bring readers the latest headlines, tools and insights to help them manage their communications during the COVID-19 crisis and tough moments that may come long after the pandemic is over.
The newsletter will contain tips on:
Remote work and culture issues
Health care communications
Internal communications
Crisis response tips
Human resources best practices
Technology updates
External communication
And more
---
TACTICALLY SPEAKING
Marvel Entertainment is offering free comic book stories through its Marvel Unlimited digital subscription service. The complimentary content launched April 2 and will be available to consumers through May 4.
This month, we'll be assembling some of our most iconic stories completely FREE through @MarvelUnlimited.

Start reading now: https://t.co/07G6E8YT94 pic.twitter.com/mH5ncG1H9f

— Marvel Entertainment (@Marvel) April 2, 2020
Consider what content or pieces of your products and services you can offer your community for free. Doing so can build goodwill and provide much-needed inspiration or entertainment. It an also entice consumers to purchase your products and services in the future.
---
WHAT YOU SAID
We asked how you're giving back to your communities, both local and virtual, and roughly 44% of you said you're creating and sharing inspiring and feel-good content. Nearly 17% are offering beefed-up information and customer service, and roughly 11% are donating money and supplies. Almost 28% of you are helping out with a mix of these efforts.
How are you giving back to your communities (both local and virtual)?

Share how you're helping people find answers, get help and continue to #StayAtHome amid #COVID19 below and under #DailyScoop. We'll include your tweets and pictures in tomorrow's roundup!

— PR Daily (@PRDaily) April 2, 2020
---
SOUNDING BOARD
It's Friday, and for many, that means celebrating virtually with colleagues or toasting to making it through another week of crisis responses. How are you kicking off the weekend?
It's Friday! You made it, communication pros. Will you kick off the weekend with a virtual happy hour?

Share pics of your virtual happy hours and Friday set up under the #DailyScoop hashtag, and we'll share in Monday's roundup. Have a good (and safe) weekend!

— PR Daily (@PRDaily) April 3, 2020
Share your Friday plans under the #DailyScoop hashtag, and we'll share in Monday's roundup. Have a good—and safe—weekend!
COMMENT
Ragan.com Daily Headlines